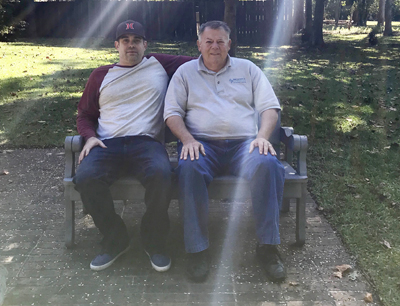 It was a mission that began decades earlier in the sanctuary of an unconventional ministry just miles from the beaches of Brunswick County. Open Door Ministries, led by pastor Larry Shreve, found itself at the center of a growing drug epidemic in the surrounding beach communities.
People seeking hope were attracted by the atmosphere of love and tolerance, encouraged by programs such as Celebrate Recovery, granted scholarships to addiction programs, and eventually housed and fed in rooms transformed to provide a makeshift shelter. Behind the scenes there were weekly meetings designed to realize the dream of a recovery campus in their own backyard. There was that rarest of all things, an abundance of humility in the absence of personal ambition. Everyone worked in the trenches, none in the spotlight. The pioneers were assembled and a movement began to materialize. The first Star News article is included below:
Shallotte Ministry Offers Place of Hope for People Battling Problems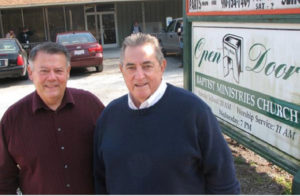 Open Door Ministries was established by Pastor Larry Shreve (above left) to "reach out to a really hurting crowd of people." The recovery community grew and the ministry prospered. Tom Sherman (above right) introduced Celebrate Recovery to Brunswick County. There was consistent growth and miraculous recoveries. Once considered hopeless, Chad Shreve sobered up in 2008 after dozens of attempts at recovery. He returned with a heart for service and a passion for the twelve steps that transformed his life. Several other success stories are mentioned in the article above.
Churches Pitch in to Launch Recovery Center for Addicts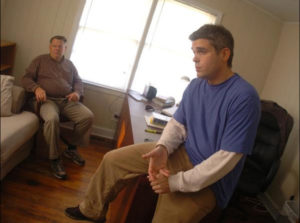 Forward to November of 2010, a photographer from the Star News snaps this photo during an interview with the founders of the newly opened BCRC Recovery Center. Since that time, hundreds have received treatment with no regard for ability to pay. They, in turn, have helped still others. The authentic version of that history is available through the hyperlink above.
Over the years the need became apparent for an emphasis on safe transitional housing for graduates of short term facilities, for others who labored endlessly as fundraising props, for those sequestered in oppressive programs, released without resources, and returned to the streets from which they came. Nationally, there were growing concerns over fair labor standards and widespread exploitation. Should any graduate leave "charitable" treatment essentially broke, homeless and unemployed? What are their odds if they do? And who are the true beneficiaries of the "work therapy" arrangement if not the indigent workers stuck in the cycle? The trend of faith without works quarantine programs had run its course. Aftercare was the new frontier.
Chad Shreve resigned in order to focus exclusively on the dream of a recovery community without timelines or borders. He brought an emphasis on action based recovery and the concept of a society not confined to a campus or steered from an uninformed boardroom. An open, peer-based community where recovered men share experience was formed to replace look-alike programs where inexperienced experts share theory and advice. Arbitrary completion dates were abandoned in favor of personal benchmarks. One-size-fits-all treatment was adjusted to fit recovery at your own pace.
Qualified leadership, including the addition of a Certified Substance Abuse Counselor in long-term recovery, would become the new standard in faith based care. Add an authentic director, known for the customization of personal designs and original projects. Finish with the support of an inspired pastor with decades of his own success with sobriety. That's something genuine, uncompromised and built from scratch with integrity. It's over 60 years of first-hand work in the trenches of recovery and one of the many characteristics that set us apart.
The profitability of bait and switch recovery models at the expense of a vulnerable population has come to represent an obvious conflict of interest. We want to draw a clear distinction between management models and exactly where we stand in relation to the crowded field.
Historically, the vast majority of successful cases recover piecemeal on a long term basis in a structured setting. In contrast, short term treatment is associated with quarantine in a closed environment followed by instant freedom upon release. In all fairness, either extreme has its pros and cons based on time constraints and immediate goals for treatment. Both models serve a specific purpose. Unfortunately, each lack the continuity of services available from the design of the other.
Our unique model involves a transition of countless smaller increments with growing levels of progress and independence. Residents reap the monetary benefits of their own hard work and families share in the financial success of the organization. That is the secret sauce. Unlike the model of boardroom management, the sense of equality builds a climate of prosperity and mutual respect. In the social model of recovery, no one element profits at the expense of another. There's no working class ruled over by a spending class who convene privately to count their fortune. No human being is a fundraising prop or number on a financial committee report. Every resident is a stakeholder in the community and an investor in his own recovery, accountable to his own recovered peers.
The concept of a seamless transition is the bedrock of our unique vision and the peer community model is the primary distinction between us and the others. 
IRS approval followed with separate 501c3 status in 2018. Plans followed for a twelve month, three stage comprehensive design. With a priority on oversight, we voluntarily opened the books and the homes to inspection through the National Alliance of Recovery Residences. As a result, the prominent NCARR standards certification was awarded to the first faith-based provider in the region. The antithesis of unregulated, money driven, cookie-cutter treatment was born. It was a vision 20 years in the making.
More importantly, Pastor Larry Shreve was named CEO of Beach Recovery and the authentic spirit of Open Door Ministries was finally reborn.
To have any real chance most will need structure, accountability, and individual treatment. More and more organizations offer theory, doctrine and social crutches. But success requires opportunity, meaningful employment, and truly affordable housing. This was the inspiration for Beach House Recovery, the next chapter in an evolving ministry.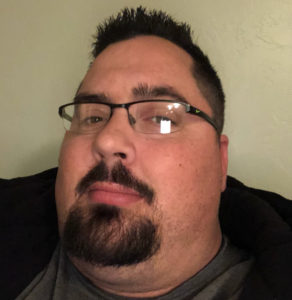 Sobering Testimonial
I want to start off by saying I owe my life to Chad Shreve and Larry Shreve. I was at a point in my life where I had nothing. My family cut me off and friends cut me off, everybody left me because of my addiction. It was me who brought everything down on myself but these guys took me in with open arms and showed me how to live a sober life and to be a productive member of society. I would recommend anybody struggling with addiction or alcoholism to contact Larry Or Chad.
Mark Fehr
Manager for Operation 6:12, a faith-based drug and alcohol recovery center.