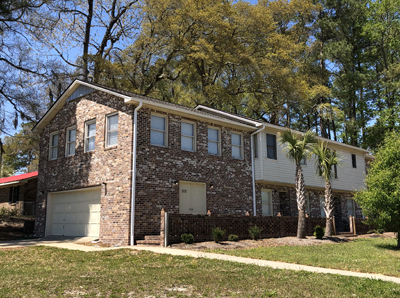 The majority of Beach House residents live in structured residential homes in the Sunset Beach area of Brunswick County. Pictured above is our beautiful Riverview community center overlooking the Calabash River and within steps of local docks and waterfront dining.
We are a nondenominational recovery ministry for men in addiction, not a drug rehab, halfway house or group home. As part of a 501c3 religious charity, we have no affiliation with the court system and do not shelter sex offenders, violent felons or those legally compelled to receive treatment. Our commitment is to support, enrich and improve our community through religious and charitable initiatives.
Beach House Recovery is licensed, certified and insured as a level 2 recovery residence provider. We offer flexible options designed to be taken individually or together to create a 3 stage one year program.
A $50 non refundable entry fee is required in advance to reserve a space:
(1) Our onsite Phase 1 program is a blend of traditional 12-step action, biblical study and spiritual discipline in a supervised group setting. It's a safe landing for the transition between inpatient treatment and a traditional recovery home. We attend meetings, worship and study together to build a healthy foundation for early sobriety. Our curriculum is centered on what we believe is missing from conventional recovery methods, a strong emphasis on practical application. Our experienced team of pastors endorse the twelve steps as the best means of applying biblical principles to the illness of addiction.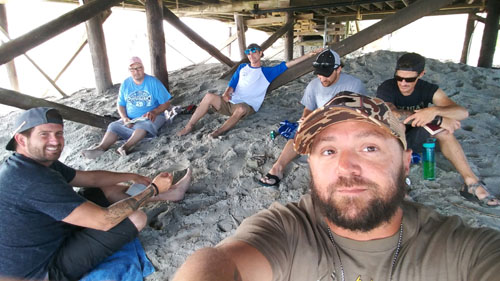 Residents focus specifically on spiritual living and progress through early recovery in the safety of a structured environment. Individual weekly counseling sessions are conducted by a NC Certified Substance Abuse Counselor.  We will explore in detail why "faith without works is dead" and how recovery strategies that fail to properly balance action with theory contribute to chronic relapse. Phase was designed as an alternative to traditional Christian approaches which favor isolation from society and practice separation from the established 12 step community. We cultivate a balanced approach best described as organic recovery.
Phase 1 has a 4 week ($775) plan or 8 week ($1400) extended track to accommodate individual needs and budget. All inclusive cost covers bed, meals, travel, counseling and materials. We do not accept health insurance or otherwise offer medical services. For the protection of our community, we allow no employment, personal vehicles, offsite visits or possession of electronic devices during the in-house recovery program. Our facility is monitored in shifts by our team of NC Certified Peer Support Specialists and our CSAC counselor conducts two individual sessions per week. Due to the overwhelming number of applicants please understand that admission cannot be confirmed until a deposit is paid and application has been approved in advance. Preexisting health concerns must be cleared through our registered nurse.
(2) Individuals who successfully complete phase 1 or another structured program are eligible to transition into nearby phase 2 community housing. This is a chance to learn integrity, life skills and personal responsibility through volunteer work or employment in the surrounding community. Vehicles and electronics are permitted following approval from staff. Access to our community center, pastoral counseling and daily transportation to and from recovery functions is included for $125 per week. These residents are held to a high standard of conduct and requirements include extensive meeting attendance and active participation in the recovery community. Individuals who achieve 6 months of sobriety are encouraged to enter phase 3 for the remainder of their commitment. Successful completion of all three stages will take approximately 12 months.
(3) Our extended phase 3 program is designed to accommodate those prepared for more independence in recovery. Phase 3 status is earned through consistent performance and may be achieved over a six month period of time. Rent for our third phase is $110 per week and homes are monitored by house managers, providing structure and direction, without the expense of extra services. Our certified homes are inspected by RROC (Recovery Residences of the Carolinas) and maintain the strict quality standards of membership.
Every individual must be self-supporting and independently provide for their own basic needs including personal hygiene, clothing, meals and employment. We do not directly employ residents, guarantee transportation or promise anyone a job, although employment assistance is one focus of our ministry. All locations are insured by a specialized sober living policy which meets the specific standards established by the National Alliance for Recovery Residences.
Our goal from the start was to assist anyone in need of help with no regard for ability to pay. It is our commitment to operate from a place of financial transparency, offering clear and candid costs represented in an honest manner. Our philosophy is unique but simple: the ministry should be funded primarily by those residents who work for a fair wage, pay reasonable rent and responsibly budget their earnings to rebuild their lives. In fact, this is what sets us apart. We believe that self support is a vital aspect of recovery and the first step toward taking responsibility for your existence. Hence we never advertise "free" services in exchange for unpaid work arrangements or rely upon fundraising schemes to support healthy, able-bodied men. We cannot in good faith promise something for nothing. Our short term scholarships are a head start, not a free ride.
If addiction has taken a heavy toll on your life, we extend this opportunity to partner with us through our rotating monthly scholarship fund. Throughout this spring you can support our Christopher Upright Memorial Scholarship on the "submit payment" tab conveniently located below.  Click on the button, then simply scroll to the bottom and choose "make donation." Your receipt will provide the necessary accounting information for tax exempt giving to a 501c3 charity.
Beach House would like to recognize Wayne McKeithan and New Life Church for generously providing scholarships for men once again in May that we offer in memory of Bradley Keith Waggoner.
An additional group of men have received scholarships in memory of Blaine Taylor, thank you Drew and Nola Taylor for your generosity.